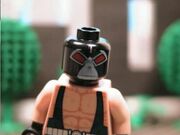 This article is a stub. You can help the ForrestFire101 Wiki by expanding it.
Bane is the laugh-along kind of villain and he does not have his own movie so far. He has been killed a number of times and never has the chance to hurt Batman because he has bad timing. No one knows if he ever will get his own ForrestFire Film. He is normally teamed up with The Penguin or The Riddler but they normally get tired of him and shoot him. He called Lex Luthor "Penis Head."
AppearencesEdit
Robin's Birthday
The Villains
The Lego Batman & Superman Movie
The Lego Batman, Spider-Man, & Superman Movie (mentioned only)
TheThthe
Ad blocker interference detected!
Wikia is a free-to-use site that makes money from advertising. We have a modified experience for viewers using ad blockers

Wikia is not accessible if you've made further modifications. Remove the custom ad blocker rule(s) and the page will load as expected.