.
Dr. Octopus is a main villain Forestfire101 uses alot. He usualy works alone except sometimes with Joker. He has been known to rip Robin's head off. He was shot in the face by Chewbacca once and has also been shot by Spider-Man. He is voiced by Mcgoiter.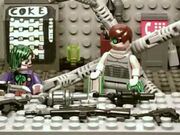 in the Batman and Spider-man movie when Dr.Octopus beats up batman he only has three arms.
Ad blocker interference detected!
Wikia is a free-to-use site that makes money from advertising. We have a modified experience for viewers using ad blockers

Wikia is not accessible if you've made further modifications. Remove the custom ad blocker rule(s) and the page will load as expected.